5 DAY TOUR – FEATURING VISITS TO BYBLOS and BA'ALBEK
Optional Lebanon Extension (All are Welcome!)
March 18th – March 22nd, 2018
Join Brien Foerster, Hugh Newman and the Khemit Team as we uncover the many layers of "Site Transformation" at Ba'albek and other sites in Lebanon that were inhabited by many different civilizations over thousands of years.

This Fabulous Journey is Open to Everyone.

March 18th, Sunday -Day 1 Arrival at the Beirut–Rafic Hariri International Airport. We will be welcomed by a representative and guide, who will take us to visit the National Museum, filled with many fascinating artifacts, including many that are clearly Egyptian
Afterwards we will be transferred to the luxurious Warwick Palm Beach Hotel in Beirut.

"

At the heart of one of the oldest city centers in the world, the four-star Warwick Palm Beach Hotel stands tall over the Mediterranean Sea as a testament to the many triumphs of Beirut. Situated in the coastal area of Ain-El Mreisseh with Mount Lebanon in background, guests enjoy lounging within deluxe guest rooms and suites filled with plush amenities or toasting 'The Paris of the East' from any of the hotel's three restaurants. From the rooftop lounge, Beirut unfolds underneath; a short walk to colorful neighborhoods alive with vibrant bars, shopping, restaurants and too many historic attractions to count."
March 19th Monday Day 2: After Breakfast, our full day tour begins with an exploration of the beautiful Phoenician city of Byblos. Byblos is a true microcosm of the civilizations that have populated Lebanon over the centuries. Arguably believed to be one of the oldest continuously inhabited cities in the world, the modern port city of Byblos is built upon multiple layers of ruins, dating back to as early as the Stone Age and extending to the more recent Ottoman days. Yousef and Brien have examined much evidence that displays an obvious timeline of site transformation with distinct connections to both ancient Egyptian and Peruvian cultures.

After enjoying lunch together we will continue on to Harissa, a small mountain village and sacred pilgrimage site. We will take a nine minute journey on a Gondola lift up to this delightful village with an amazing panoramic view of Jounieh Bay.
Overnight Warwick Palm Beach Hotel, Beirut (B,L)

March 20th Tuesday Day 3: After Breakfast, we will embark on our visit to Ba'albeck and the Temples of Jupiter, Bacchus and Venus and the Stone of the Pregnant Woman. Known as Heliopolis or the "City of the Sun" during Greco-Roman times, the site of Ba'albek shows much evidence that a more advanced civilization must have built and inhabited the area thousands of years earlier.

Archeologist and Khemitologist, Abd'el Hakim Awyan, maintained that very ancient Khemit (Egypt) extended well beyond its current borders and included Lebanon and the area known as Ba'albek. We will see the six remaining Corinthian columns of the Jupiter Temple, made from rose granite that was transported all the way from the Aswan Quarries in Egypt. Eight more were disassembled and shipped to Constantinople under Justinian's orders circa 532-537 CE, for his basilica of Hagia Sophia.
Overnight Kanaan Group Hotel, Ba'albek (B,L)

March 21st Wednesday- Day 4: After breakfast we spend another full day at Ba'albek. There is so much to experience and see that we wanted to provide ourselves with enough time to explore every nook and cranny of this extra-ordinary and expansive site.

Overnight Kanaan Group Hotel, Ba'albek (B,L)
March 22nd Thursday Day 5: After Breakfast we leave for an exploration of Anjar, formerly known as Gerrha, a stronghold built by Umayyad Caliph Al-Walid ibn Abdel Malek in the 8th century. The actual construction was undertaken by laborers from Anatolia and Coptic artisans from Egypt.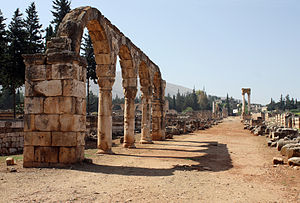 It was founded on a strategic location between Baalbek and Damascus. Umayyad Caliph Walid I started its construction in 714. The city was never completed, and destroyed and abandoned already in 744.
The layout of Anjar was heavily influenced by Roman planning. Two meter thick walls contained the 114,000 square-meter city. It had forty towers and a gate. The city held over 600 shops, a Roman grid, a monumental tetrapyle, the Umayyad Palace, a mosque and a hammam.
Afterwards, we'll drive back to Beirut. Please plan for your International flight home after 4 PM or plan to spend another night in Beirut.
Itinerary subject to change due to circumstances beyond our control.
With a minimum of 10 guests the details are as follows:
Price per Person, double occupancy: $2,200.00 USD (Includes airfare from, but, not returning to Cairo, Egypt)
Optional Single Room Supplement: $ 200.00
For anyone who is traveling with us from the tour in Cairo, we will leave the morning after the tour is completed. International flight back home can be made from Beirut.
OR
Price per Person, double occupancy: $1,950.00 USD

(Land Only Tour in Lebanon with no International flights included)
Optional Single Room Supplement: $ 200.00
NOTE: This is the additional amount you will pay if you choose to have your own private room throughout the journey. ROOMMATES: If you're not traveling with anyone you know, we would be happy to assist pairing you up with a fellow traveler.
Per our Terms and Conditions, we will hold the registration open until 30 days before the tour begins (or later if possible) in order to try to match you with someone. If by that date we have not been able to do so, you will be responsible to pay for the single supplement. Please try to register early if you would like to be matched with a roommate.
Registration Form found at this link:
(Payment in full is required by February 15th, 2018 for all participants)
Please contact Patricia Awyan @ info@khemitology.com with any questions.
Your Land Package Includes:
1. Airport transfers to and from your Hotel in Beirut
2. 4-Star hotels in Beirut and Ba'albek with Breakfast included
3. Other meals included: 3 Lunches
4. Baggage handling at airport and hotels
5. Visits to the temples and monument sites, including transportation and entrance fees.
6. Brien Foerster, Hugh Newman, Andrew Collins, Patricia and Yousef Awyan as your Special Guest Speakers
7. English Speaking Tour Guide
NOT INCLUDED:
– Roundtrip international airfares (For anyone who is not coming with us from the Egypt Tour in Cairo)
– Lebanon Tourist Visa (Easily obtainable for most travelers, on arrival at Beirut International Airport for $35.00 USD)
Please check the requirements for your nationality at this link:
http://en.wikipedia.org/wiki/Visa_policy_of_Lebanon
-Travel & Health Insurance
– Personal items such as laundry, beverages during meals, internet service on the cruise ship and telephone calls or any item not listed on the itinerary.
TRAVEL DOCUMENTS All travelers need a passport valid for at least six months after the date of entering the country. ) Please note that passports must not have an entry visa to Israel in them.
Reservation and Cancellation Policies
Reservation and Payment: A non-refundable deposit of $400.00 per person will be required at the time of booking. To insure your reservation, final payment will be due 45 days prior the departure dates from your Country. It is the responsibility of the traveler (or agent) to determine that final payment reaches us on time. Bookings made within 30 days of departure date, will require full and final payment immediately upon booking. No booking will be considered until final deposit is received by the Tour Operator. Payments are to be made via Bank Transfer. Any fees charged will be the responsibility of the sender. Please inquire about this before you make your bank transaction.
Cancellation and Refunds: Due to high preparation costs, cancellations must be received in writing within 45 days of travel date. Cancellations received more than 30 days prior to departure will have a penalty of $500 per person; those received between 30 and 25 days will have a penalty of 50% per person; those received between 25 and 20 days will have a penalty of 75% per person. Cancellations received 20 days or less before departure will receive no refund. No refund will be made for transfers, city tours or any other services (including meals, accommodations or transportation) voluntarily not taken.
Changes: This itinerary is subject to changes in sequence in order to adapt to unforeseen circumstances. The content will remain the same, barring any unanticipated complications.
INSURANCE: We recommend that all participants obtain Travel Insurance. Travel Insured International offers insurance for trip cost, trip cancellation & interruption, and pays for loss due to unforeseen circumstance, death, injury, or illness to you or a member of your family. It also includes coverage for missed connections due to weather, pays for lost deposits due to the financial default of the airline, the tour operator, or cruise line. It pays for baggage delays, travel delays, medical expenses, emergency assistance and
WAIVER OF RESPONSIBILITY: By signing up to the tour you agree to our terms, deposit conditions and waiver. KSAM, its agents and our Tour Facilitators have worked diligently to make all of the arrangements for our journey together in Egypt, however, KSAM, its agents and our Tour Facilitators will not be held liable for delays, theft, damage, injury, or any other irregularities that may occur during the course of the journey. We will not be held liable for any changes or delays in airline schedules or missed connections; injury, loss, or damage to persons or property; additional expenses resulting from changes in exchange rates, tariffs, or itinerary; any transportation issues or problems with vehicles utilized on the tour; additional expenses incurred due to illness, weather conditions, protests, war, terrorism, quarantine, or other causes; and losses due to cancellations not subject to our terms and conditions.