HEART OF CAMBODIA! Journey to the Center of Yourself
Featuring the Ancient Secrets and Wisdom of ANGKOR WAT
December 4th – 11th, 2017
Follow the Current of the

Ancient Magnetic Equator

, the Golden Mean of Unlimited Potential

As Above, So Below
Travel the path of transformation that leads from temporal to eternal, from our earth to the heavens, as we trace the clues that the Khmer civilization left at this vortex point on our space and time continuum.
Explore Cambodia with Khemitologist and Symbologist,

Patricia Awyan Lehman

along with Geologist,

Suzan Moore

, Meditation Specialist and Novelist,

Theresa Crater

, and Engineer,

Alex Mott

on a magical journey of self-discovery.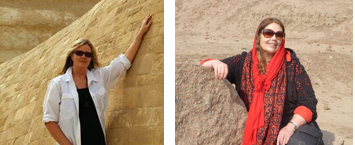 PATRICIA will hold a space for your spiritual work, as well as offering an Al Khem-ical approach to understanding the secrets within the symbolism and mythologies of the ancients. She will cite the remarkable similarities between the symbolism of Egypt & Cambodia, providing a deeper understanding the nature of our reality and the underlying elctro-magnetic current that powers it.
SUZAN, our team's paradigm changing Geologist, will introduce us to a fresh and unique perspective on the labelling, consistency and the alchemical potentials of the mixture and selection of rocks and materials used to create the many ancient and megalithic structures found worldwide.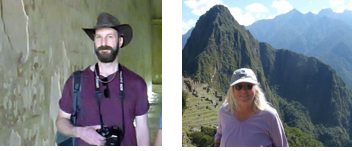 ALEX will address the architectural and technological methods used to build these magnificent monuments and participate in the discussion of the electro-magnetic significance of the land and structures we'll be visiting.
THERESA, will offer workshops on and lead us through (optional) meditations throughout our journey. Meditation can have a profound effect on our experience of the powerful 'currents' that flow through ancient structures. Theresa will offer us techniques to connect with this pulsing energy as well as the quiet, peaceful heart within.
'KAMPUJA' CAMBODIA
Legend has it that a Warrior-Sage from India named Kambu won the Naga princess, Soma as his bride with his sacred bow. Her father, the Naga King, drank the water that covered the land and presented it to them…and a new CURRENT was set in motion.
Kambuja…Cambodia, the land of the Khmer Nation, the AXIS MUNDI was established.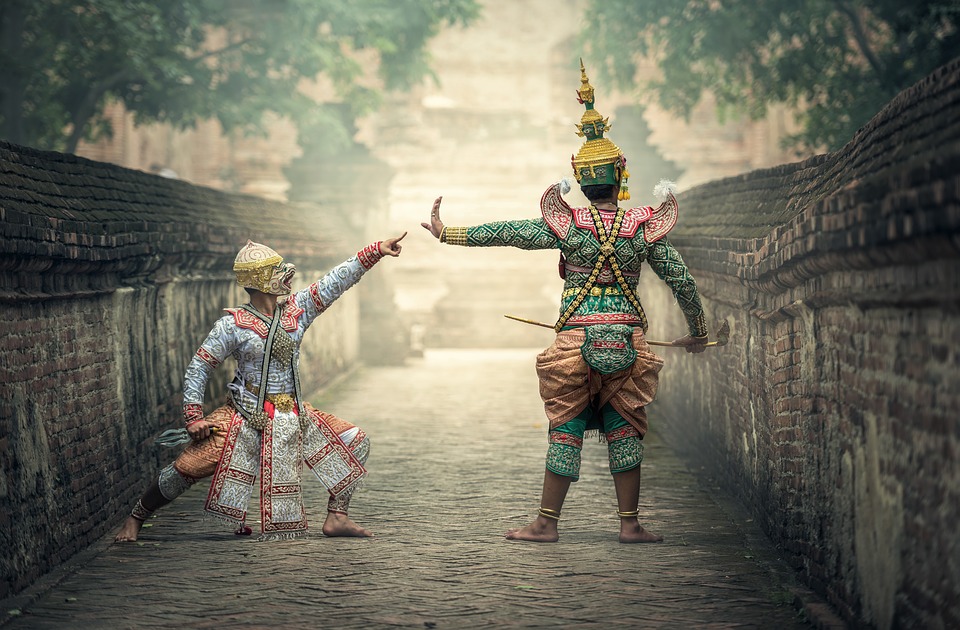 This civilization thrived and aspired to recreate

the First Time on Earth

, constructing countless fabulous and intriguing temples, palaces and waterworks in the area of Angkor. This was an effort to re-establish the Golden Age of Consciousness in much the same spirit as Akhenaton, at his new capital, in Amarna Egypt, which he dedicated to the Aten, a stage of the sun that marked mankind's highest peak of consciousness.
It is said that this area was virgin ground when the Khmer kings first established their capital. However, recent radar scanning has established evidence of prehistoric remains of ancient temples, extensive water works and layers of civilization from a far more ancient time. For it is always the place… the energetic blueprint and nature of the land itself that inspires those who know to create our most sacred structures at these most fertile locations.TIME, SPACE & THE ELIXER OF LIFE
Angkor Wat stands on a raised terrace above the level of the city. Its central tower is surrounded by four smaller ones with rows of tapering lotuses rising to a point. This central feature represents the mythical World Mountain, Meru, the celestial home of the gods, which rises to the heavens from the center of the Earth. The Cosmic Mount Meru, is the world axis or

Axis Mundi

which powers our precession through Ages of Consciousness.
As Above, So Below, as Without, so Within. Angkor's structures embody the energetic architecture and rhythm of the universe or 'game board' of our interaction within our perceived reality.
The Temple served as an astronomical observatory and record keeper of solar and stellar events, most notable, the rising sun alignment with the western entrance on the Equinoxes and Solstices. Each monument on the ground reflects a deep understanding of Cosmology and its significant influence on the expression of life on Earth.
This is the journey we will take as we traverse the broad avenues and enter the sacred ground, moving through the corridors that lead can us into the heavens and altered states of consciousness within ourselves.
This is passage between Yesterday and Tomorrow… and we will meet ourselves in the NOW- at our Center Node, the NOUS, 'the Holy of Holies'. which is our Heart
Gods and Demons flanking the causeways hold the great cosmic serpent or Sine Wave that symbolizes the rhythmic movement through dual fields of force that churn the cosmic ocean of our existence, churning out both treasures and challenges.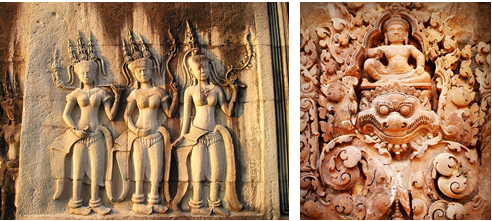 Basic Itinerary:
Day 1 – Monday, December 4th:

Arrival, Introductory Meeting and Welcome Dinner

. Overnight: 5-Star Le Méridien Angkor (D)
Day 2 – Tuesday, December 5th:

Angkor Wat and Angkor Thom Temples, Preah Palilay, and the Phimeanakas and Baphuon Royal Pyramid Temples.

Overnight: Le Méridien Angkor (B,L)
Day 3 – Wednesday, December 6th:

Rolous and the Monuments of Lolei, Preah Ko and Bakong

. Overnight: Le Méridien Angkor (B,L)
Day 4 – Thursday, December 7th:

Temples of the Forest & Countryside Adventure

. Overnight: Le Méridien Angkor (B,L,D)
Day 5 – Friday, December 8th:

Banteay Srei , Preah Khan, Neak Pean & Ta Som.

Overnight: Le Méridien Angkor (B,L)
Day 6 – Saturday, December 9th:

Special Condé Nast Signature Experience: Phnom Krom Sunrise Meditation

and Banteay Kdei Temple. Overnight: Le Méridien Angkor (B,L)
Day 7 – Sunday, December 10th:

Mysterious Jungle Temples of Koh Ker & Beng Mealea

. Overnight: Le Méridien Angkor (B,L)
Day 8: Monday, December 11th:

Optional

Boat Ride on The Tonle Sap or Visits to Local Markets, Artisan Workshops. Roundtable Discussion.

Overnight: Le Méridien Angkor (B,D)
Day 9: Tuesday, December 12th: Transfer to Siem Reap International Airport (B)
(B= Breakfast, L= Lunch, D= DInner Included)

FULL ITINERARY:
Day 1 – Monday, December 4th:

Arrival, Introductory Meeting and Welcome Dinner
Meet and Greet and the Airport and Transfer to the
5-star Luxurious Le Méridien Angkor Hotel

in Siem Reap. This evening we'll meet for an Introductory Meeting and Welcome Dinner. Overnight: Le Méridien Angkor (D)

Day 2 – Tuesday, December 5th:

Angkor Wat

and Angkor Thom Temples, Preah Palilay, and the Phimeanakas and Baphuon Royal Pyramid Temples.
This morning we'll leave early for our day at the Angkor Wat complex.Angkor Wat Our journey through time begins as we cross the entrance bridge decorated with the 108 Gods and Demons who hold the serpent, Vasuki as they churn the Celestial Ocean in their quest to discover the nectar of life and immortality.
It is a cosmic mirror, a calendar, with concentric galleries that tell the secrets of the ages, similar to that of the ceilings at Dendera Temple in Egypt.

The beauty in balance and composition, combined with its sheer vast scale ensure Angkor Wat's place as the crowning achievement in Khmer art and architecture. It is truly one of the most brilliant ancient structures in the world.

Angkor Thom Once described as "fantastic as the Atlantis of Plato", Angkor Thom was once the largest city on the planet. We will begin our trek at Preah Palilay and walk through the shaded parkland behind the megalithic terraces, and majestic gateways passing Phimeanakas with its beautiful lakes, and the imposing Baphuon.Preah Palilay This rarely visited temple offers a unique synthesis of Hindu and Buddhist elements. Naga balustrades and a towering gateway lead us to the sanctum, where we can meditate near the Buddha seated on a lotus.Phimeanakas

Phimeanakas,

The Palace of Heaven, is a much earlier pyramid shrine which

embodied the connection between the king and the sacred (cobra) Naga spirits, who were the original 'lords of the land', as the powerful electro-magnetic currents.

Its legend tells us the king was to spend the first half of the night in the tower. It was believed that a nine-headed serpent, who took the form of a beautiful woman lived in the temple's tower. The king was to make love to the Naga Princess every night. If she failed to visit, the king's days were up. If he failed to give her his company, his land would face calamity—thus describing the dual aspects of our electro-magnetic life force.
Baphuon This temple pyramid of five stepped layers was built as a state temple in the middle of the 11th century. It was dedicated to Shiva who dances the cosmic dance of birth, death and rebirth.

Lecture by Patricia this evening

. Overnight: Le Méridien Angkor (B,L)
Day 3 – Wednesday, December 6th:

Rolous andLolei, Preah Ko and Bakong
After an early breakfast, we will travel in our air-conditioned coach through the green Cambodian landscape to explore the earliest Angkor capital (881 AD) in the region Rolous, where we'll visit the three monuments of Lolei, Preah Ko and Bakong.

Lolei Lolei was built by king Yasovarman I and dedicated in 893 to Shiva and to his parents and grand parents. Originally it was an island temple in the center of a reservoir, which symbolically identified it with Mount Meru. Its four towers were dedicated to the royal ancestors. They are decorated with false doors, carved lintels, gods and guardians who flank both real and false doors. We find the sky-god Indra mounted on the elephant Airavata, serpent-like monsters called makaras, and multi-headed nagas.
Preah Ko, The Sacred Bull Also known as the "Sacred Bull", Preah Ko is one of the oldest temples in Angkor and also the oldest among the Roluos Group of temples.
Bakong This temple mountain was the first such structure built by Khmer rulers in the Angkor area. Dating to the latter part of the 9th century it was constructed by king Indravarman I as his state temple. Its stepped pyramid structure bears striking similarities with the Borobudur of central Java, with gateways and stairs leading to the upper terraces.
Afterwards we'll enjoy a picnic lunch before transferring back to our hotel. Lecture by Suzan Moore followed by Optional Meditation Workshop with Theresa. Overnight: Le Méridien Angkor (B,L)
Day 4 – Thursday, December 7th: T

emples of the Forest & Countryside Adventure

We will get an early start for our adventure into the forests to visit Srah Srang and Ta Prohm.
We'll walk through the forest to the secluded, enchanting temple of
Ta Nei
and enjoy a light breakfast, before we this peaceful, rarely visited sanctuary. Next, we're off to
Ta Keo
temple, known as the
"mountain with bronze peaks", designed as five-tiered pyramidal structure.
Ta Prohm '

Ancestor Brahma'

Listen to the sounds of nature at work as you stand alone in the morning mist admidst the soaring trees and serpentine roots of Ta Prohm, the

Personification of the Perfection of Wisdom, the Bodhisattva Prajnaparamita, the Mother of all Buddhas. . It has some extent been kept in the state in which it was found, with trees and structure creating unusual and mysterious architecture.

Ta Keo

Ta Keo, as a temple mountain, is a symbolic embodiment of Mount Meru, and was the first to be built entirely from sandstone. The Step Pyramid has five sanctuary towers arranged in a quincunx, erected on the uppermost level of five-tier pyramid consisting of overlapping terraces surrounded by water.
Countryside Senses

Join us on a journey of discovery through the rural landscape to beautiful and interesting places that are generally inaccessible to visitors. Today we will lead you between rice paddies, through woodland and back gardens on foot, by ox-cart and boat to experience the very best of the countryside.
After a short drive, we'll visit a colorful contemporary pagoda to learn more about the importance of Buddhism in rural communities and seek a blessing from the monks. We will enjoy seasonal fruits straight from the tree, and speak to families who have specialized in baking sticky rice in bamboo for over 30 years.
Take an ox-cart ride through typical villages followed by a 20 minute easy walk to bring you to the vast Western Baray. An impressive engineering feat, this man-made reservoir was once integral to the complex Angkorian rice irrigation system. You will travel by boat (depending on water level) to a country villa,
Chandara

. This will be an adventure from a slower, more romantic era of travel.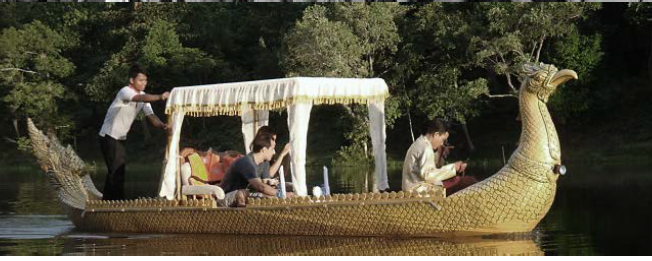 We reach Chandara, surrounded by rice paddies, across a stream to the north of a village where tourists are rarely seen. This is a wonderful spot to relax in the quiet of the countryside and enjoy sunset with drinks (included).

The tempo of the Cambodian countryside is truly meditation in motion.
While the chef prepares your classic dinner,

you can wander across the levees of the rice paddies, look for fish traps, or walk a short distance to a viewpoint over the ancient reservoir, whilst listening to the elegance of traditional Khmer music played by local musicians, before being seated for your evening meal.
Note: Please let us know of any specific dietary requirement or allergies you may have.
We recommend to wear comfortable, practical footwear suitable for walking and also clothing appropriate for entering a pagoda. Please cover your knees and shoulders to show respect.
Overnight: Le Méridien Angkor (B,LD)
Day 5 – Friday, December 8th:

Banteay Srei , Preah Khan

, Neak Pean & Ta Som
Today we will visit the alluring Banteay Srei Temple in the morning and explore the Grand Circuit in the afternoon. We visit Preah Khan and the Neak Pean temple, dedicated to healing and cosmology. Our adventure concludes with a visit to Ta Som, a picturesque tree temple that forms an alignment with Neak Pean and Preah Khan.

Banteay Srei

Known as the Citadel of the Women, or Citadel of Beauty, Bantey Srei is a small pink sandstone temple dedicated to Shiva with the most exquisite, deep and complex carvings. It is known as a precious gem, or the jewel of Khmer art. A division is found along its axis, where the reliefs on the south of the axis relate to Shiva, and those to the north to Vishnu.

Preah Khan

A Buddhist temple, whose modern name means Sacred Sword or Nagara Jayasri, translated as: the city of victorious royal fortune,

Preah Khan

was dedicated to the Bodhisattva of Compassion. 72 mages of Garuda (Hawk-headed God) holding snakes in their talons guard the outer wall of this temple city where thousands dedicated their lives to service and compassion.

Neak Pean

This sacred structure reflects the divine life force of the magnetic current as water, that nurtures and heals. Four ponds surround a central pond which represents the Sacred Lake, Anavatapta from which four great rivers emerge in the cardinal directions. At its center stands a pavilion dedicated to the bodhisattva of Compassion, Avalokiteshvara. The center body of water, which is surrounded by channels into the four cardinal directions, flows through the mouths of the

four Great Beasts, Elephant, Bull, Horse, and Lion,

representing water, earth, air and fire. Two great entwined Nagas or cobras encircle the structure, symbolizing the opposing dual spins of electro-magnetic currents that represent the union of the dual hemispheres of all vibrating matter. Bathing in the waters offers purification and healing.

Ta Som

This enchanting tree temple forms an alignment with Neak Pean and Preah Khan. Its jungle covered remains have been left undisturbed, reminiscent of how Angkor looked like when it was rediscovered in the 19th century.
Evening Lecture. Overnight: Le Méridien Angkor (B, L)
Day 6 – Saturday, December 9th:

Condé Nast Signature Experience:

Special Phnom Krom Sunrise MeditationWe will rise early for a pre-dawn meditation on the hill at Phnom Krom Pagoda (You can choose to walk up the 20-30 minute path, guided only by flashlight, and the moon—or be driven to the Pagoda at the top of the hill.)
Once at the pagoda, we will meet the Abbot and an elder monk, and just before dawn the monks will begin a purification ceremony, with chanting and prayers, before giving us a final blessing with holy water by the Abbot himself.
As the sun rises, we will be greeted by fantastic views of the Angkor plain, with the great Tonle Sap Lake and temples of Angkor in sight

. A light breakfast will be laid out for us to enjoy after the ceremony, before we descend down the hill by car to Siem Reap.Banteay Kdei Temple In the afternoon, we will explore the sprawling labyrinth of Banteay Kdei with its Hall of Dancing Girls, still used by monks from the Angkorian today. We'll enjoy an Asian/Western lunch together at our Hotel. Evening Free. Overnight: Le Méridien Angkor (B,L)

Day 7 – Sunday, December 10th:

Mysterious Jungle Temples of Koh Ker & Beng Mealea.
Leaving at 8 AM. we'll travel in our air-conditioned coach to the remote and mysterious Jungle Temples of Koh Ker & Beng Mealea.

Koh Ker

Ko Ker, known as the City of Lingas, the capital of the Khmer empire for a short time in the 9th century AD. Here we will enjoy the beauty of the sanctuary of partly overgrown pyramids and shrines in peace and quiet. A seven‑tiered 118-foot high pyramid, stands impressively amid the series of lingas and shrines. After enjoying a picnic lunch together, we're off to the next adventure.

Beng Mealea

The seldom visited, Beng Mealea, also known as the Lotus Pond, is an extraordinary site. Very similar to Angkor Wat but on a smaller scale it remains largely unrestored. Scholars have been drawn here to study the extraordinary quality of its architecture and décor. The central sanctum is surrounded by three concentric galleries and courtyards encircled by a water filled moat, while the causeways lead to entrances that point to the cardinal directions. Overnight: Le Méridien Angkor (B,L)
Day 8: Monday, December 11th:

Optional Boat Ride on The Tonle Sap or Visits to Local Markets, Artisan Workshops
Local Markets and Artisan Workshops

Explore local markets: Old Market for typical souvenir shopping or Psa Leu for a completely non-touristic experience. Roam narrow lanes lined with stalls selling a bewildering array of wonderfully exotic edibles, from waterfowl to snakes, spiders and dried bugs.
Then continue to visit the Artisans d'Angkor Centre, one of the best workshops in town with excellent quality sandstone, silver, wood, and silk products.
Hunter-Gatherers on Tonle Sap


The great Tonle Sap lake is the richest fresh water fishing ground in the world, a national treasure producing an ever-changing landscape. The communities that live around the margins of the lake cope with huge seasonal variations in water levels by building their homes on floating bamboo rafts or 30ft stilts. It is well worth the extra effort to get away from the touristy village of Chong Kneas to the more genuine stilted villages – Kompong Khleang or Kompong Phluk (dependent on water levels) – for an understanding of contemporary lake life.
Take the opportunity to pause at the stilted houses to learn how a subsistence fishing family lives, before continuing by boat along the margins of the lake. While you explore the life on the water we will have prepared a picnic lunch for you to enjoy on-board while absorbing the atmosphere of this unique locality.
Late Afternoon Roundtable for questions for our Speakers and sharing thoughts and experiences. This evening we'll gather for our Farewell Dinner.

Ranked as some of the best cuisine in Siem Reap, Le Méridien Angkor offers a mix of traditional Khmer dishes to French cuisine with a twist!
Overnight: Le Méridien Angkor (B,D)
Day 9: Tuesday, December 12th: Transfer to the Siem Reap International Airport (B)
This Itinerary is subject to changes in order to adapt to unforeseen circumstances.
Copyright © 2017 The Khemit School, All rights reserved.

Our Featured Host and Speakers:
Patricia Awyan Lehman

KSAM Co- Director, Khemitologist, Speaker, Researcher, Explorer, Symbologist, Spiritual & Intuitive Life Counsellor and Artist

From a very young age, Patricia knew that she would one day be going home to Egypt. Having been born with a "need to know", she has spent much of her life on a personal quest for knowledge, wisdom and spiritual fulfillment. Patricia's strong and

vital connection to Nature and her continual study of the esoteric and physical sciences, propelled her into a lifelong investigation of ancient mysteries

.
She is a gifted Intuitive, Clairaudient and Clairvoyant. As a long-time student in metaphysical, spiritual and indigenous traditions, Patricia's eclectic spiritual background serves as a strong foundation to support to her work. She became of student of
Khemitology

after meeting world renowned, Khemitologist, Abd'el Hakim Awyan, on her first trip to Egypt in 2005.
Patricia devotes much of her time to the research of ancient symbolism and mythologies worldwide. She has traveled to sites in Australia, Great Britain, France, Spain, Lebanon, Peru, Bolivia, India and all over America and Egypt, researching the clues that support the concept of a very advanced civilization, technologically and spiritually, that once spanned the globe possibly tens of thousands of years ago and left a legacy of knowledge and wisdom for us to decipher.
Patricia presents lectures that illustrate how

the ancients left us a blueprint that maps out the truth

of the beauty, perfection and infinite possibilities that exist within and outside every one of us— if we are willing to view our world from a higher perspective, as
symbolized by the union of the eyes of Horus.
Patricia and Alex are currently working on a documentary on the electro-magnetic life force that powers the fertility of all life on this planet…and how the ancients not only sensed it, they were able to harness it to create incredible force fields. They are collaborating with Suzan Moore on this project and will be exploring the significance of this dynamic at the sites we are visiting throughout our journey in Cambodia.

Suzan Moore

Geologist, Researcher, Speaker and Explorer
Born and raised on the prairies of Saskatchewan Canada,
Suzan developed

a keen interest in nature, rocks and stars at an early age. That passion led her to pursue a Geology degree with a minor in Astronomy.

Suzan has been working as a Geologist in Canada for over 40 years. She originally worked in both mining and regional mapping of granites and metamorphic rocks in northern Saskatchewan and the North West Territories. She has been working for many years as a Sedimentological Specialist in the Oil and Gas industry in Calgary Alberta, specializing in the Jurassic of North-Western America.
She has always had an interest in ancient Egypt and has been returning regularly since her first visit 10 years ago. After a trip to Peru in 2013 she developed a passion for understanding megalithic structures and the rocks they are carved from, which led her to explore their implications in Egypt, Lebanon, India, Peru, Bolivia and other countries as well. She is currently

attempting to incorporate how weathering, time and source of the rocks affect the construction and preservation of many of the megalithic structures.
Taking a holistic approach, Suzan offers a unique and fresh viewpoint on the description, consistency and use of the various types of rocks and materials used in the ancient structures here, as well as the landscape of the sites themselves.
Suzan

is looking closely at magnetic anomalies, as well as the evidence of patterns of cycles with the elements of the strata of the earth. Not afraid to break with accepted tradition, Suzan offers a new perspective on the geologic record and conventional timelines of our planet.

Theresa Crater

Author, University Professor, Meditation Teacher
Best-selling author Theresa Crater brings ancient temples, lost civilizations, and secret societies back to life in her visionary fiction. Her novels include

The Power Places series

, Under the Stone Paw and Beneath the Hallowed Hill, as well as The Star Family and

God in a Box.

The Star Family won best fiction in the Indie Spirit Book Awards in 2015. Married to Stephen Mehler, Theresa edited his books on Egypt and the Crystal Skulls, and has traveled with him to sacred sites in Egypt, Scotland and England, as well as Peru and Bolivia. Theresa is also a university professor, teaching creative writing and British literature
Theresa Crater started meditating in 1971, became a meditation teacher in 1976, and has been meditating and teaching it ever since. She teaches in both the Eastern and Western Metaphysical traditions.

She's studied Western Metaphysics, Wicca, Native American shamanism, mostly the Hopi teachings, and is a Reiki Master

. Theresa has also helped to run sweat lodges as well as vision quests for interested westerners. For those interested in lineages, her Eastern training is from the TM movement, which has its origins in the Northern Shankaracharya seat in Jyotirmath, India. She has studied in Dion Fortune's Western Metaphysical tradition primarily.
At Angkor Wat, we'll be meditating at the sites to connect with the energies, histories, and the genius loci (or guiding intelligence) of the temples.

Alex Mott Explorer, Researcher, Filmmaker, Published Writer, Produced Scriptwriter, Voice-over artist, Multi-instrumentalist (drums/piano/tabla) and Composer.
Alex began playing drums at the age of 10, and his relationship with music quickly became a major theme throughout his life. After graduating in 1996 with a Masters degree in Engineering and Management, Alex became a Music Teacher. He has traveled to ancient megalith sites all around the world in search of the truth of our collective heritage. His focus lies in the study of the advanced technologies of the ancients.
With the assistance of Trash Arts Productions he has produced and starred in several documentaries about his research and discoveries, including the Award winning: Rethinking Egypt documentary that he filmed while travelling with the Khemit School team in 2015. Alex also traveled with the Khemit team to Peru and Bolivia, and to India with Suzan Moore and Patricia. His documentaries also include: Rethinking Peru , Rethinking Bosnia and Rethinking India.
Patricia and Alex are currently working on a documentary on the electro-magnetic life force that powers the fertility of all life on this planet…and how the ancients not only sensed it, they were able to harness it to create incredible force fields. They are collaborating with Suzan Moore on this project and will be exploring the significance of this dynamic at the sites we are visiting throughout our journey in Cambodia.
He has been researching magnetic anomalies found at other sites and has implemented his own experiments to test the effect of magnetism on seed growth.
http://mott-resource.com/blog/ https://www.youtube.com/channel/UCqn_SIgoxEGG3mgDCoa9ISg

Price per Person, double occupancy: $ 3,995.00 USD (Land Only)
A Non-Refundable Deposit of

$700.00

USD

per Person will be required at the time of Booking.
Optional Single Room Supplement:

$835.00 USD
NOTE: This is the additional amount you will pay if you choose to have your own private room throughout the journey. ROOMMATES: If you're not travelling with anyone you know, we would be happy to assist pairing you up with a fellow traveller.
Per our Terms and Conditions, we will hold the registration open until 30 days before the tour begins (or later if possible) in order to try to match you with someone. If by that date we have not been able to do so, you will be responsible to pay for the single supplement. Please try to register early if you would like to be matched with a roommate.
Visitors must obtain an Cambodian Tourist Visa – Easily obtainable for most travelers for $37.00 USD at: https://www.evisa.gov.kh/
Please contact Patricia Awyan Lehman @ info@khemitology.com with any questions.
What's Included:
• Transportation and transfers in private air-conditioned vehicle with dedicated driver or remorques (tuk-tuks)
• Private boat tours (as applicable) • Angkor Guidebook
• Angkor Archaeological Park Entry Pass: $72.00 USD (Good for 7 Days) per person
• Accommodation including all taxes and breakfast
• Expert English speaking guide
• Daily Breakfasts
• 4 Lunches, 3 Dinners
• Patricia Awyan Lehman as your Host and Speaker
• Suzan Moore,
Theresa Crater and Alex Mott as

Speakers
• Government tax and service charge
• Luggage handling
• Drinking water and refreshing towels for touring
• 24/7 support from our

ABOUTAsia team

, our tour facilitators in Cambodia
What's Not Included:
• Visa and Immigration Fees
• International air tickets to/from Cambodia
• Insurance of all kinds
• Meals aside from those specifically included
• Additional touring required beside above sights
• Tips, drinks, personal expenses

Terms and Conditions:
Travel Documents
All travelers need a passport valid for at least six months after the date of entering the country. You can apply for your visas easily at https://www.evisa.gov.kh/
Baggage
Between North America and Indian destinations, each passenger is allowed up to two pieces of checked baggage. Please check with your domestic airline for specifics on the size and weight of your allowed baggage.
Reservation and Payment
A non-refundable Deposit of $700.00 per Person will be required at the time of booking. Final payment will be due 65 days prior to Tour start. It is the responsibility of the traveler (or agent) to determine that final payment reaches us on time. No booking will be considered until final deposit is received by the Tour Operator.
Cancellation and Refunds
You may cancel your trip at any time providing that the cancellation is made by the person who initially instructed us to proceed with the booking, and is communicated in writing. As administration and supplier costs are incurred when a tour is cancelled we will retain your deposit and apply cancellation charges as shown below:
*The cancellation period will be based on the date that
we receive your cancellation in writing:


• More than 30 days before travel – full deposit retained
• 29 to 15 days before travel – 50% of the total price of the tour
• 14 to 7 days before travel – 75% of the total price of the tour
• 6 days or less before travel – 100% of the total price of the tour
We strongly advise you to arrange travel insurance to cover you in the event of cancellation.

Insurance

We recommend that all participants obtain Travel Insurance. Travel Insured International offers insurance for trip cost, trip cancellation & interruption, and pays for loss due to unforeseen circumstance, death, injury, or illness to you or a member of your family. It also includes coverage for missed connections due to weather, pays for lost deposits due to the financial default of the airline, or the tour operator. It pays for baggage delays, travel delays, medical expenses and emergency assistance.

Waiver of Responsibility

By signing up to the Tour you agree to our Terms, Deposit Conditions and Waiver.

The Khemit School, its agents and About Asia (our tour facilitator) have worked diligently to make all of the arrangements for our journey together in Cambodia. However, the Khemit School, its agents and About Asia will not be held liable for delays, theft, damage, injury or any other irregularities that may occur during the course of the journey. We will not be held liable for any changes or delays in airline schedules or missed connections; injury, loss, or damage to persons or property; additional expenses resulting from changes in exchange rates, tariffs or itinerary; any transportation issues or problems with vehicles utilized on the tour; additional expenses incurred due to illness, weather conditions, protests, war, terrorism, quarantine or other causes; and losses due to cancellations not subject to our Terms and Conditions.