---
THE KHEMIT SCHOOL OF ANCIENT MYSTICISM:
WISDOM JOURNEYS & ADVENTURES
THE KHEMIT SCHOOL OF ANCIENT MYSTICISM IS EXCITED TO ANNOUNCE A BRAND NEW OFFERING OF UNIQUE AND EXCLUSIVE WISDOM JOURNEYS FEATURING KHEMIT SCHOOL HOSTS AND SPEAKERS YOUSEF AND PATRICIA AWYAN AND MOHAMED IBRAHIM
JOIN THE KHEMIT TEAM ON POWERFUL WISDOM JOURNEYS AND CUSTOM ADVENTURES THROUGHOUT EGYPT THAT PROMISE TO TRANSFORM THE WAY YOU EXPERIENCE YOUR LIFE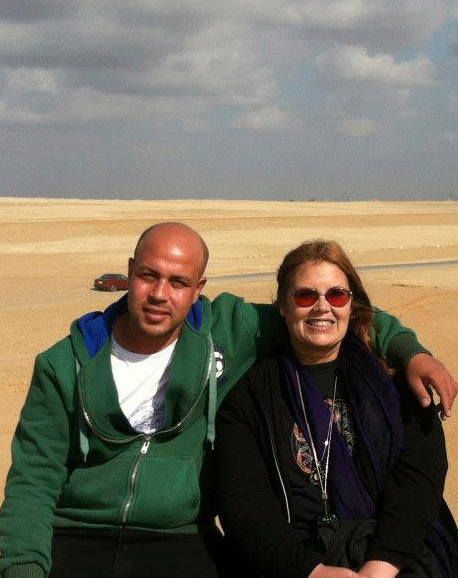 Prepare to discard much of what you think you know about Ancient Egypt, and open your eyes, minds, and hearts to a entirely new perspective – generated by research and discoveries that confirm the teachings of Yousef's father, Khemitologist, Abd'el Hakim Awyan. See for yourself, the amazing evidence left behind that confirms this alternative perspective of our collective heritage! Awaken your spirit to the powerful energies that the sacred geometrical design and patterning that Egypt's monuments and temples naturally generate. Why were these monuments and sacred sites aligned with the stars and so integrally connected to our cosmic design? See the ancient sites of Khemit through new eyes, and experience their powerful energies as Yousef and Patricia guide you and hold a sacred space for healing, meditation and self transformation.
Next Available Wisdom Tours:
Egypt! Techno–Spiritual Tour V
Advanced Technology and Spirituality of the Ancients
March 6th – March 19th, 2017
Space still Available! Accepting Registrations until February 24th
Featuring Speakers: Stephen Mehler, Brien Foerster, Suzan Moore and Yousef & Patricia Awyan along with our Egyptologist, Tour Guide, Mohamed Ibrahim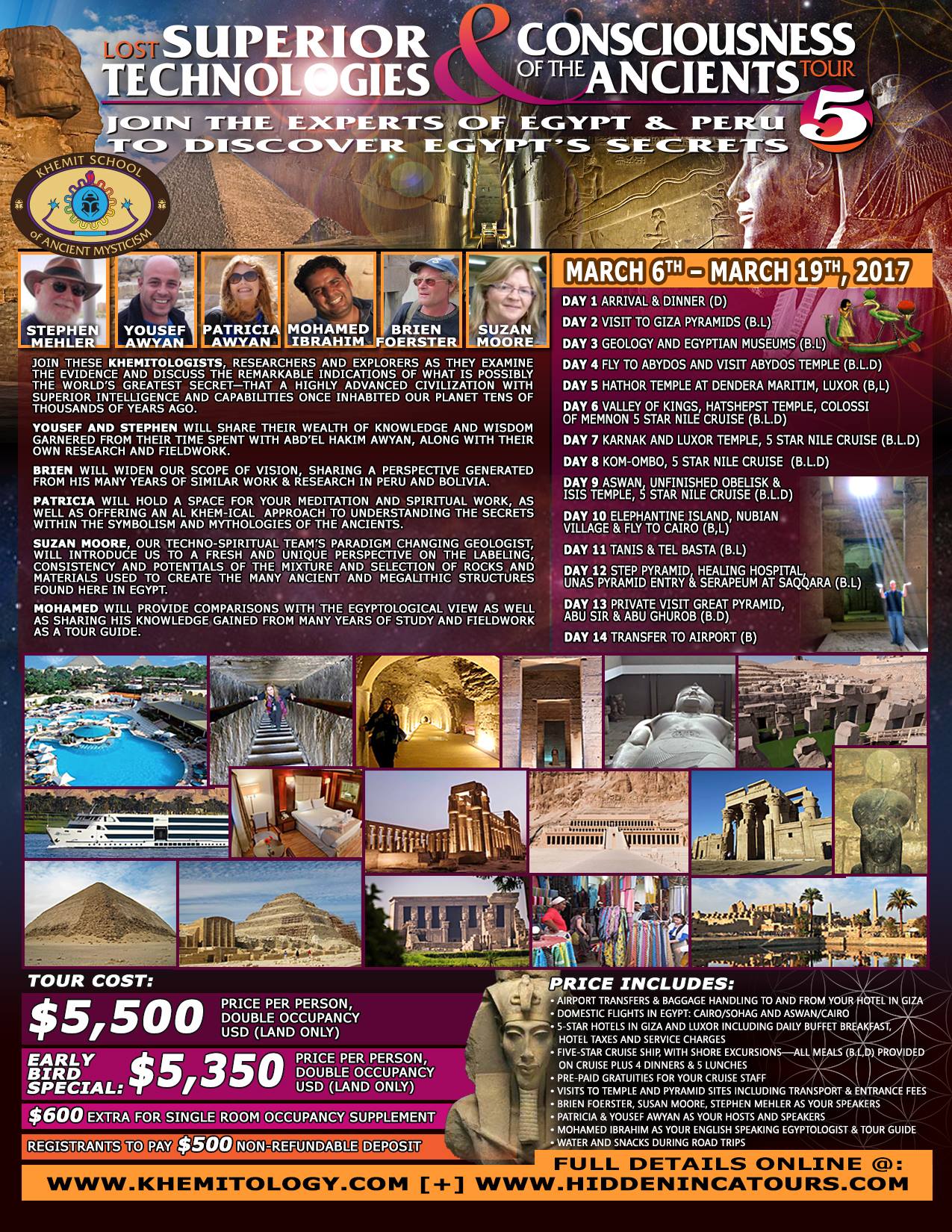 Join these Khemitologists, Researchers and Explorers as they examine the evidence and discuss the remarkable indications of what is possibly the world's greatest secret– that a highly advanced civilization with superior intelligence and capabilities once inhabited our planet tens of thousands of years ago.

Yousef and Stephen will share their wealth of knowledge and wisdom garnered from their time spent with Abd'el Hakim Awyan, along with their own research and fieldwork.
Brien will widen our scope of vision, sharing a perspective generated from his many years of similar work & research in Peru and Bolivia.

Patricia will hold a space for your meditation and spiritual work, as well as offering an Al Khem-ical approach to understanding the secrets within the symbolism and mythologies of the ancients.
Suzan Moore, our Techno-Spiritual Team's paradigm changing Geologist, will introduce us to a fresh and unique perspective on the labeling, consistency and potentials of the mixture and selection of rocks and materials used to create the many ancient and megalithic structures found here in Egypt.
Mohamed will provide comparisons with the Egyptological view as well as sharing his knowledge gained from many years of study and fieldwork as a tour guide.

March 21 – 25, 2017
5 DAY TOUR – FEATURING VISITS TO AMMAN, PETRA & THE DEAD SEA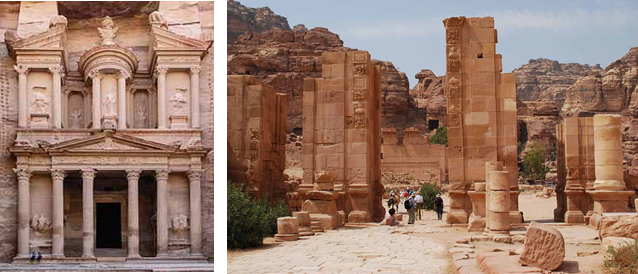 Magnetic, Mystical, Enigmatic Scotland!
Experience the Magic Tour
July 30th – August 8th, 2017
& Optional Orkney Island and Dunrobin Castle Extension
August 8th -13th, 2017Featuring Speakers Patricia Awyan, Suzan
Featuring Speakers Patricia Awyan, Suzan Moore, and Alex Mott as well as our hostess, Jane Wardlaw & Hearth Mother Tours
Join us on our quest in this Land of Enchantment, following ancient paths of empowerment, exploring and experiencing the magnetic anomalies and magic found in Scotland's unique world of Ancient Castles, Magnificent Architecture, Faery Glens, Stone Circles and Magic Mountains, and much much more…
Where the magic happens!
Sacred sites are like tuning forks enabling us to walk between the worlds discovering wisdom and charging our physical, mental and spiritual bodies with formless energies that ignite and enhance our lives. We will hear stories about King Arthur and Merlin, the Holy Grail, St. Brigid — as well as tales of Templars, elves, faeries, and pixies and all things supernatural. And yet…will we discover that all we deem to be paranormal is simply very natural to those who understand how to harness the geo-magnetic life force of the mysterious lands of Scotland?
Custom Journeys
KSAM provides a wide variety of custom experiences for travelers. Create your own itinerary and we will facilitate all the details! Travel with or without Yousef and Patricia as your Speakers and Guides, or include their services for portions of your journey. We can accommodate one individual as well as very large groups. We invite you to come home to Egypt and experience its magnificence from the Wisdom Keepers' perspective!
Exciting New "Off the Beaten Path" Tours
---
---
ASK US ABOUT OUR UNIQUE NEW TRAVEL OFFERINGS, RESEARCH TRIPS AND BODY, MIND & SPIRIT HEALING RETREATS TO SITES IN THE SINAI DESERT, TEL EL AMARNA, ESNA AND TO THE OASIS OF EGYPT'S WESTERN DESERT.. EXPERIENCE THE PROFOUND AND POWERFUL ENERGIES IN AREAS RARELY VISITED BY MOST TOURISTS.
Local Excursions for the Independent Traveler
The Khemit School of Ancient Mysticism offers several half and one day journeys in and around Giza. With Yousef and Patricia as your guides, you can choose to explore the Giza Plateau, with it's subterranean tunnels, shafts and resonance chambers, or experience the transformative energies of Dashur and Saqqara. Our exclusive expeditions to the rarely visited sites of Abu Ghurob, Abu Sir and the Pyramids at Hawara and Medium in the Oasis of Fayuum are unforgettably remarkable and powerful experiences.
Please contact Patricia at info@khemitology.com for information regarding upcoming tours, and/or your independent travel needs in and around Cairo and Alexandria.