---
Yousef Abd'el Hakim Awyan |Khemit School Co-Director, Researcher, Speaker, Stone Mason, Artist, and Musician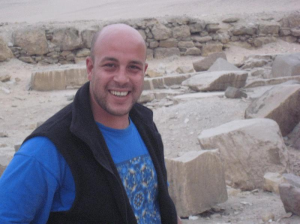 Yousef Awyan was born, raised and still resides at his family's home in Nazlet el Saman, which lies just a few meters from the Sphinx Entrance to the Giza Plateau. Yousef grew up listening avidly to his father, Abd'El Hakim Awyan, talk about the secrets and mysteries of ancient Khemit (Egypt). Sharing his passion, he honors his father's memory by continuing to share his wealth of knowledge and wisdom. He is devoted to revealing, researching and teaching the amazing truths of Egypt's and our collective heritage.
Yousef met and married his wife, Patricia in 2008, and together they created The Khemit School of Ancient Mysticism as an open forum to share the teachings of Hakim, and to continue on with the exploration and research of the ancient mysteries, both on and off the sites. Yousef divides his time between carving sculptures, creating and playing music, and interacting with visitors from all over the world. Yousef and Patricia host several tours each year as a venue to share this knowledge, assisting people to broaden their vision of the history of Egypt, and citing the evidence of the superior intelligence, spirituality and technologies of the people who once inhabited ancient Khemit.
Yousef reads and interprets the hieroglyphs, symbols and images found in Egypt, from a unique perspective as taught to him by his father, as well as through his own research and continual study. He is a gifted artist, sculptor and musician. As an accomplished musician, Yousef's keen ear for sound frequencies and pitch, enable him to tune in and find the resonant "tones" at many of the sacred areas and chambers found at the monuments and temples throughout Egypt.
---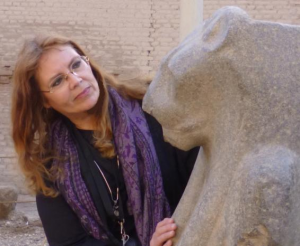 Patricia Awyan | Khemit School Co-Director, Researcher, Speaker, Explorer, Artist, and Spiritual & Intuitive Life Counselor
From a very young age, Patricia knew that she would one day be "going home" to Egypt. Having been born with a "need to know", she has spent much of her life on a personal quest for knowledge, wisdom and spiritual fulfillment. Patricia's strong and vital connection to Nature and interest in the mystical and physical sciences propelled her into a lifelong study of the ancient mysteries.
She is a gifted Intuitive, clairaudient and clairvoyant. As a long time student in metaphysical, spiritual and esoteric subjects and traditions, Patricia's eclectic spiritual background serves as a strong foundation to support to her work. She became of student of Khemitology after meeting world renowned, Khemitologist, Abd'el Hakim Awyan, on her first trip to Egypt in 2005.
It was during her third journey to Egypt that she would meet, and fall in love with her husband, Yousef Awyan. Together, she and Yousef created The Khemit School of Ancient Mysticism as an open forum to share the teachings of his father, Hakim, and to continue on with the exploration and research of the ancient mysteries, both on and off the sites.
Patricia devotes much of her time to the study and exploration of ancient mysteries, symbolism and mythologies worldwide. She has traveled to sites in Australia, Great Britain, France, Spain, Lebanon, Peru, Bolivia and all over America and Egypt ,researching the clues that support the concept of a very advanced civilization , technologically and spiritually, that once spanned the globe possibly tens of thousands of years ago and left of legacy of knowledge and wisdom for us to decipher.
The mythologies of these global civilizations are all telling a similar story: They include metaphors that explain the nature of our reality and the universe and speak to our eternal cycling through golden and dark ages. The evidence left behind, in places all over the world, point to a civilization that flourished, maybe tens of thousands of years ago, that far surpassed our own- both technologically and spiritually. Much of what we think is REAL- is an illusion. However, the illusion serves to challenge and inspire us to grow and raise our own levels of awareness– and to remember how to live resonantly with our natural world. Patricia presents lectures that illustrate how the ancients left us a blueprint that maps out the truth of the beauty, perfection and infinite possibilities that exist within and outside every one of us— if we are willing to view our world from a higher perspective, as symbolized by the eye of Horus.
The evidence is there and both Patricia and Yousef are making worldwide connections in their ongoing pursuit to uncover and confirm these truths.
---
Mohamed Ibrahim| Hieroglyphics Expert, and Licensed Tour Guide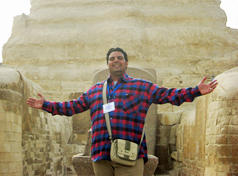 Mohamed Ibrahim, inspired by passionate desire to share his wisdom, offers a wide spectrum of knowledge regarding the history, arts, literature, and culture of the ancient Egyptians.
Mohamed was born in Memphis, Egypt and studied (Ancient Egyptian, Coptic, Islamic) Art and history at Helwan University in Cairo. He has been working as a Tour Guide and a Teacher of Hieroglyphics since 2000. Mohamed studied Hieroglyphics under the tutelage of Professor Abdel Halim Nour Ed-Dien
Mohamed's comprehensive knowledge of Ancient Egypt, along with his background in comparative religions and spiritual studies has enabled him to fill lecture halls and conduct a variety of successful tours over the years. When he is not on tour, Mohamed frequently lectures on Egyptian mythology ‐ its spiritual aspects in Egyptian art, and the Ancient Egyptian concept of Gods and Goddesses.