An open forum, with free membership, for all who wish to learn, teach, research and share about everything relating to Khemit (Egypt).
We offer a gathering place for those who wish to promote positive self-transformation, contribute to raising levels of awareness, and the integrity of our collective consciousness.
Combining the wisdom of ancient Khemit and the powerful energies of this Sacred Land with our collective knowledge, abilities and talents, the Khemit School of Ancient Mysticism (KSAM) offers a space to experience profound life altering shifts.
Our Vision
Personal and global transformation achieved peacefully in a safe and open environment wherein everyone who participates can combine their collective energies, research, ideas and wisdom for the betterment of all.

Because Egyptology doesn't cover everything or offer valid explanations or all that we see and experience at the sites in Egypt. Abd'el Hakim Awyan, world renowned Indigenous Egyptian "Keeper of the Keys", developed the discipline of Khemitology, which offers an alternative, higher dimensional perspective of Egypt's heritage. Much evidence of glaring anomalies has been discovered throughout Egypt, which warrants our collective continued research of the legacy that a highly advanced civilization left behind more than 10,000 years ago.
UPCOMING EVENTS:
EGYPT! Techno–Spiritual Tour V
Advanced Technology and Spirituality of the Ancients
March 6th – March 19th, 2017
Space still Available! Accepting Registrations until February 24th
Featuring Speakers: Stephen Mehler, Brien Foerster, Suzan Moore and Yousef & Patricia Awyan along with our Egyptologist, Tour Guide, Mohamed Ibrahim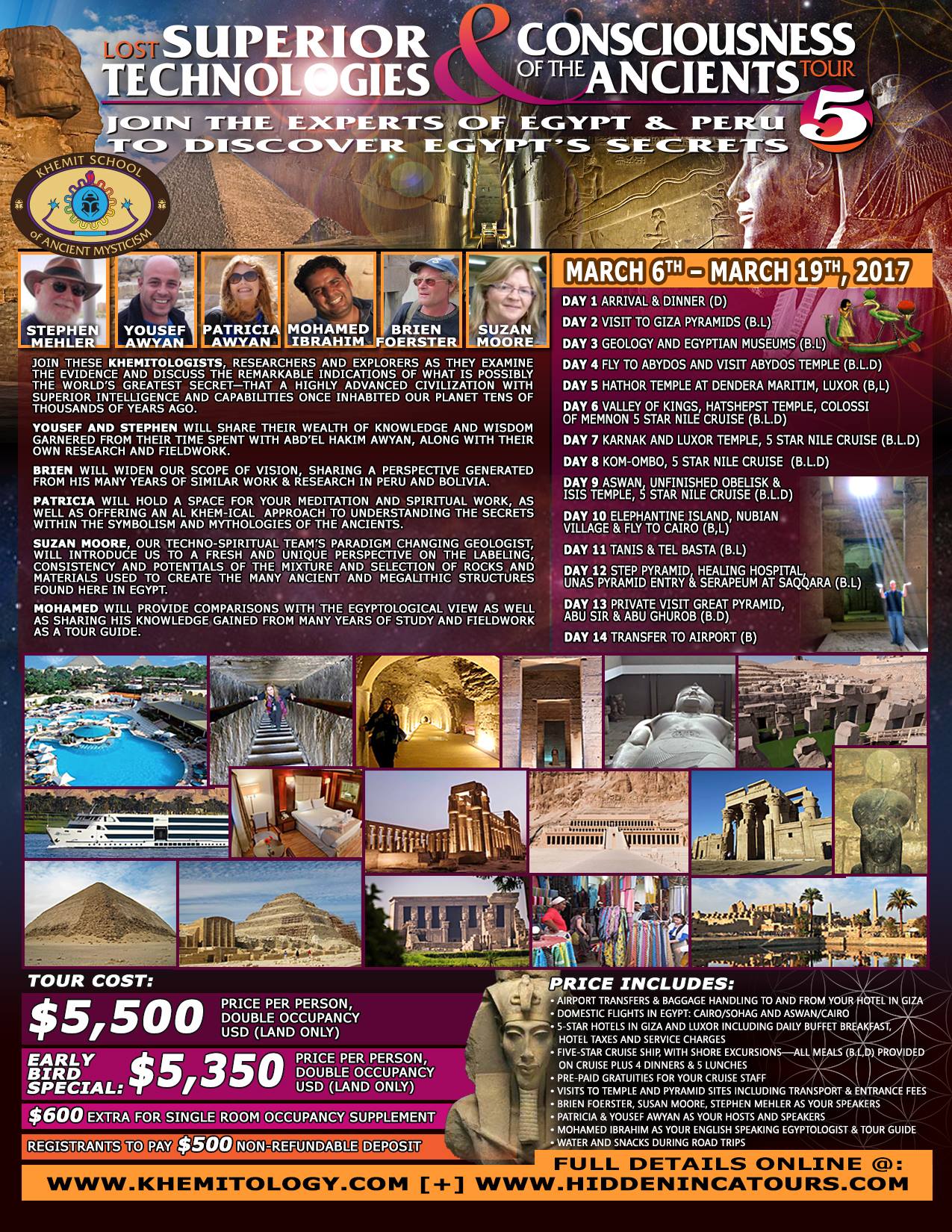 Join these Khemitologists, Researchers and Explorers as they examine the evidence and discuss the remarkable indications of what is possibly the world's greatest secret– that a highly advanced civilization with superior intelligence and capabilities once inhabited our planet tens of thousands of years ago.

Yousef and Stephen will share their wealth of knowledge and wisdom garnered from their time spent with Abd'el Hakim Awyan, along with their own research and fieldwork.
Brien will widen our scope of vision, sharing a perspective generated from his many years of similar work & research in Peru and Bolivia.

Patricia will hold a space for your meditation and spiritual work, as well as offering an Al Khem-ical approach to understanding the secrets within the symbolism and mythologies of the ancients.
Suzan Moore, our Techno-Spiritual Team's paradigm changing Geologist, will introduce us to a fresh and unique perspective on the labeling, consistency and potentials of the mixture and selection of rocks and materials used to create the many ancient and megalithic structures found here in Egypt.
Mohamed will provide comparisons with the Egyptological view as well as sharing his knowledge gained from many years of study and fieldwork as a tour guide.
March 21 – 25, 2017
5 DAY TOUR – FEATURING VISITS TO AMMAN, PETRA & THE DEAD SEA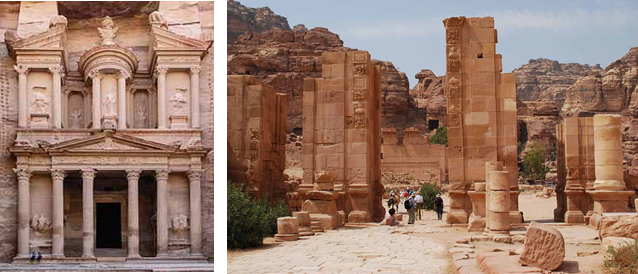 Magnetic, Mystical, Enigmatic Scotland!
Experience the Magic Tour
July 30th – August 8th, 2017
& Optional Orkney Island and Dunrobin Castle Extension
August 8th -13th, 2017
Featuring Speakers Patricia Awyan, Suzan Moore, and Alex Mott as well as our hostess, Jane Wardlaw & Hearth Mother Tours
Join us on our quest in this Land of Enchantment, following ancient paths of empowerment, exploring and experiencing the magnetic anomalies and magic found in Scotland's unique world of Ancient Castles, Magnificent Architecture, Faery Glens, Stone Circles and Magic Mountains, and much much more…
Where the magic happens!
Sacred sites are like tuning forks enabling us to walk between the worlds discovering wisdom and charging our physical, mental and spiritual bodies with formless energies that ignite and enhance our lives. We will hear stories about King Arthur and Merlin, the Holy Grail, St. Brigid — as well as tales of Templars, elves, faeries, and pixies and all things supernatural. And yet…will we discover that all we deem to be paranormal is simply very natural to those who understand how to harness the geo-magnetic life force of the mysterious lands of Scotland?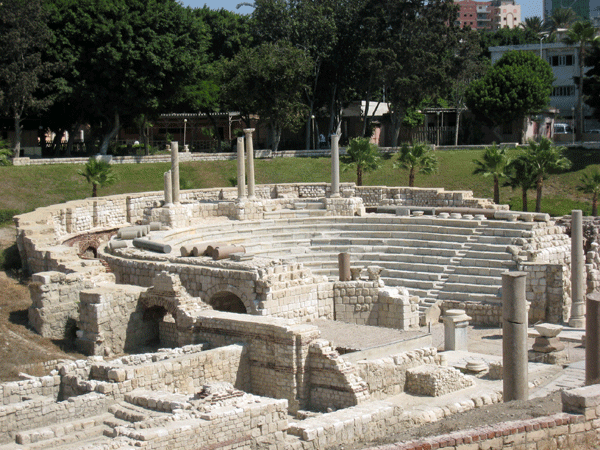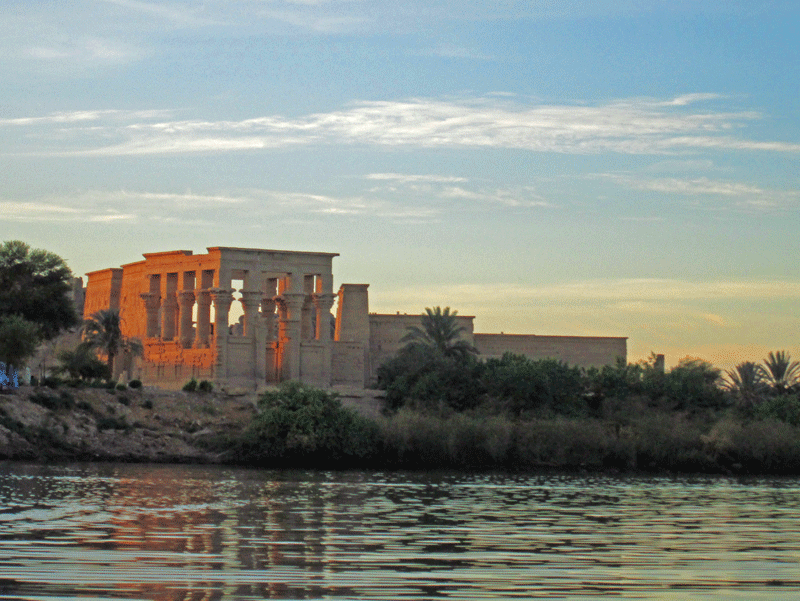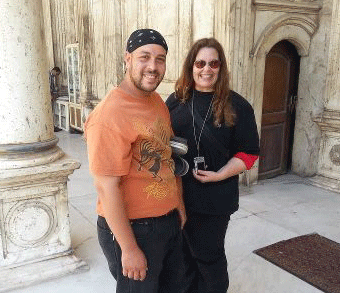 Please contact Patricia for any information regarding Khemitology, upcoming tours, and/or your independent travel needs in and around Cairo and Alexandria .
For Information on all of our unique upcoming Wisdom Journeys, please visit our

Travel Page