An open forum, with free membership, for all who wish to learn, teach, research and share about everything relating to Khemit (Egypt).
We offer a gathering place for those who wish to promote positive self-transformation, contribute to raising levels of awareness, and the integrity of our collective consciousness.
Combining the wisdom of ancient Khemit and the powerful energies of this Sacred Land with our collective knowledge, abilities and talents, the Khemit School of Ancient Mysticism (KSAM) offers a space to experience profound life altering shifts.
Our Vision
Personal and global transformation achieved peacefully in a safe and open environment wherein everyone who participates can combine their collective energies, research, ideas and wisdom for the betterment of all.

Because Egyptology doesn't cover everything or offer valid explanations or all that we see and experience at the sites in Egypt. Abd'el Hakim Awyan, world renowned Indigenous Egyptian "Keeper of the Keys", developed the discipline of Khemitology, which offers an alternative, higher dimensional perspective of Egypt's heritage. Much evidence of glaring anomalies has been discovered throughout Egypt, which warrants our collective continued research of the legacy that a highly advanced civilization left behind.
UPCOMING EVENTS:
Magnetic, Mystical, Enigmatic Scotland!
Experience the Magic Tour
July 30th – August 8th, 2017
& Optional Orkney Island and Dunrobin Castle Extension
August 8th -13th, 2017
SPACES STILL AVAILABLE!
Featuring Speakers Patricia Awyan, Suzan Moore, and Alex Mott as well as our hostess, Jane Wardlaw & Hearth Mother Tours
Join us on our quest in this Land of Enchantment, following ancient paths of empowerment, exploring and experiencing the magnetic anomalies and magic found in Scotland's unique world of Ancient Castles, Magnificent Architecture, Faery Glens, Stone Circles and Magic Mountains, and much much more…
Where the magic happens!
Sacred sites are like tuning forks enabling us to walk between the worlds discovering wisdom and charging our physical, mental and spiritual bodies with formless energies that ignite and enhance our lives. We will hear stories about King Arthur and Merlin, the Holy Grail, St. Brigid — as well as tales of Templars, elves, faeries, and pixies and all things supernatural. And yet…will we discover that all we deem to be paranormal is simply very natural to those who understand how to harness the geo-magnetic life force of the mysterious lands of Scotland?
EXPERIENCE EGYPT WITH NASSIM HARAMEIN!
The Resonance Science Foundation & Resonance Academy invites you to discover the secrets of Ancient Egypt in an Event hosted by the Khemit School and joined by Speakers, Hugh Newman & Jamie Janover

Explore emerging scientific paradigms by immersing yourself in humanity's ancient past.
This intimate, interactive learning experience in one of the most iconic and historically significant locations on planet Earth is bound to change your life!
– Be the first to receive the long-awaited A.R.K.TM crystal technology –

– Experience a private journey to the Great Pyramids under a full moon –
– Discover the secrets of sacred sites –
– Connect with Nassim, Faculty and fellow Delegates –
– Bask in luxurious accommodations –
– Extend the adventure by adding the Path of Nile Tour & Cruise (limited to 64 Delegates) –
Don't miss this journey of a lifetime!
EXPLORE. CONNECT. ACTIVATE.
A $1000 deposit is required to secure your place on the tour of your choice.

HEART OF CAMBODIA! Journey to the Center of Yourself
Featuring the Ancient Secrets and Wisdom of ANGKOR WAT
December 4th – 11th, 2017
Follow the Current of the

Ancient Magnetic Equator

, the Golden Mean of Unlimited Potential


As Above, So Below
Travel the path of transformation that leads from temporal to eternal, from our earth to the heavens, as we trace the clues that the Khmer civilization left at this vortex point on our space and time continuum.
Explore Cambodia with Khemitologist and Symbologist,

Patricia Awyan Lehman

along with Geologist,

Suzan Moore

, Meditation Specialist and Novelist,

Theresa Crater

, and Engineer,

Alex Mott

on a magical journey of self-discovery.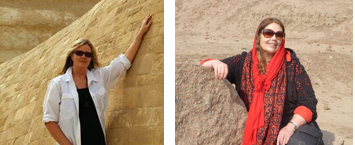 PATRICIA will hold a space for your spiritual work, as well as offering an Al Khem-ical approach to understanding the secrets within the symbolism and mythologies of the ancients. She will cite the remarkable similarities between the symbolism of Egypt & Cambodia, providing a deeper understanding the nature of our reality and the underlying elctro-magnetic current that powers it.
SUZAN, our team's paradigm changing Geologist, will introduce us to a fresh and unique perspective on the labelling, consistency and the alchemical potentials of the mixture and selection of rocks and materials used to create the many ancient and megalithic structures found worldwide.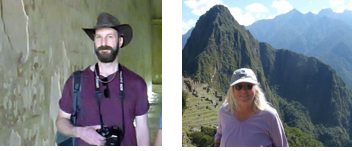 ALEX will address the architectural and technological methods used to build these magnificent monuments and participate in the discussion of the electro-magnetic significance of the land and structures we'll be visiting.
THERESA, will offer workshops on and lead us through (optional) meditations throughout our journey. Meditation can have a profound effect on our experience of the powerful 'currents' that flow through ancient structures. Theresa will offer us techniques to connect with this pulsing energy as well as the quiet, peaceful heart within.
'KAMPUJA' CAMBODIA
Legend has it that a Warrior-Sage from India named Kambu won the Naga princess, Soma as his bride with his sacred bow. Her father, the Naga King, drank the water that covered the land and presented it to them…and a new CURRENT was set in motion.
Kambuja…Cambodia, the land of the Khmer Nation, the AXIS MUNDI was established.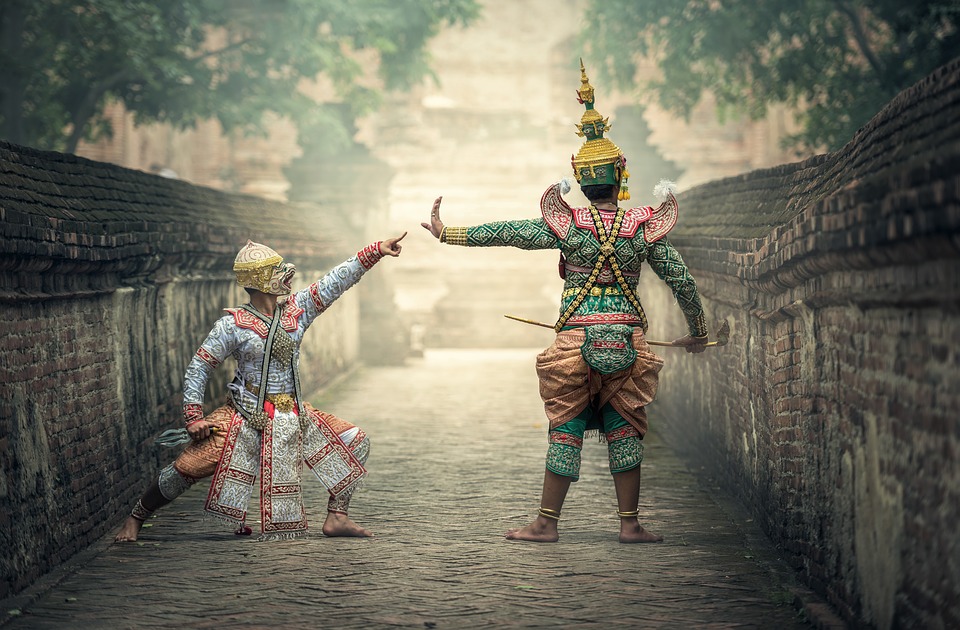 The Khemit School, Megalithomania, & Brien Foerster present…
ANCIENT EGYPT!: March 5th – March 18th , 2018
Lost Technology and Wisdom of the Ancients Tour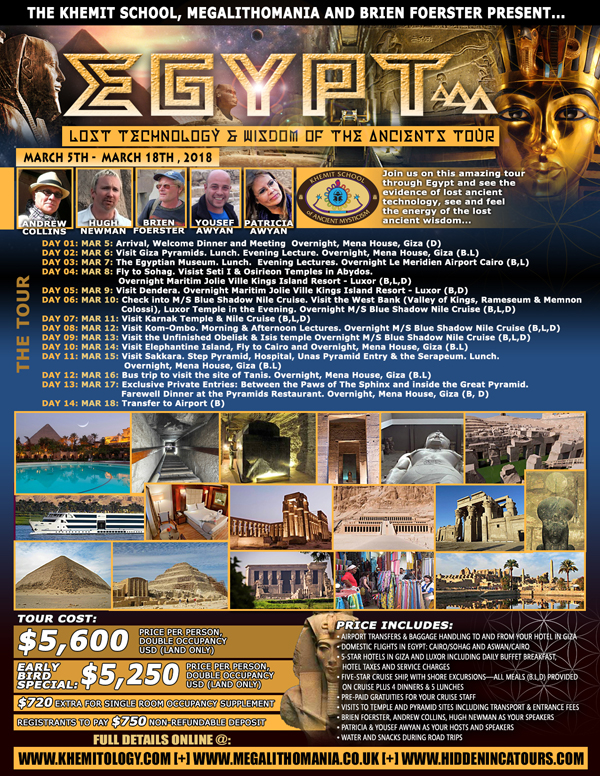 For the past 5 years, we have enjoyed exploring ancient Egypt each Spring with a special emphasis on the Lost Ancient High Technology evidence in this amazing land. In March of 2018 our expedition will expand its focus to also include the metaphysical and spiritual aspects, and how the ancient technology and energetics were and indeed are deeply connected. To maximize this, we will have Brien Foerster, Hugh Newman, Andrew Collins, Patricia Awyan and Yousef Awyan with us; the "in the field" discoveries will be amazing. Come and be part of this investigation.
Join these Khemitologists, Researchers, and Explorers as they examine the evidence and discuss the remarkable indications of what is possibly the world's greatest secret – that a highly advanced civilization with superior intelligence and technological capabilities once inhabited our planet tens of thousands of years ago.
Hugh Newman is an explorer, megalithomaniac and author of Earth Grids: The Secret Pattern of Gaia's Sacred Sites and co-author of Giants on Record. He has been a regular guest on History Channel's Ancient Aliens and featured in Search for the Lost Giants. He has articles published in Atlantis Rising (US), New Dawn (Australia), Nexus (Aus/UK) and numerous other publications. As well as organising the Megalithomania conferences and tours, he has spoken at events in the UK, Malta, France, Peru, Egypt, Bosnia and North America. He lives in Glastonbury, England. His websites are megalithomania.co.uk and hughnewman.co.uk
Andrew Collins is a historical writer and explorer living in the United Kingdom. He is the author of more than a dozen books that challenge the way we perceive the past. In 2008 Andrew and colleague Nigel Skinner Simpson discovered a previously unrecorded cave complex beneath the pyramids of Giza, which has brought him worldwide acclaim. Andrew's latest book Gobekli Tepe: Genesis of the Gods is the culmination of twenty years' study of the origins of the Watchers and Nephilim of the book of Enoch, and the Anunnaki of Sumerian myth and legend. Visit Andrew's website, andrewcollins.com, for more details.
Yousef Awyan has been studying ancient Egyptian Hieroglyphs or the "Sufi Language", as Hakim called it, for most of his life. Yousef reads and interprets the glyphs, symbols and images found in Egypt, from the indigenous understanding as well as from what he has learned through his study hieroglyphics texts.He is a gifted artist, sculptor and musician. As an accomplished musician, Yousef's keen ear for sound frequencies and pitch, enable him to tune in and find the resonant "tones" at many resonant areas and chambers found at the monuments and temples throughout Egypt.
Patricia Awyan is a gifted intuitive, clairaudient and clairvoyant and will hold a space for your spiritual work, as well as offering an Al Khem-ical approach to understanding the secrets within the symbolism and mythologies of the ancients. She will cite the remarkable similarities between the symbolism of Egypt with that of indigenous cultures worldwide, providing a deeper understanding the nature of our reality and the underlying electro-magnetic current that powers it.
Brien Foerster has explored more than 90 countries but his true passion is researching and writing about the ancient megalithic works found in Peru, Bolivia, Mexico, Easter Island, Egypt, England, and beyond. His 23 books are available on this website & amazon.com. He has appeared 15 times on the Ancient Aliens television series as well as numerous other TV and radio presentations. Brien's popular Youtube channel contains more than 850 videos related to hidden history and megalithic sites.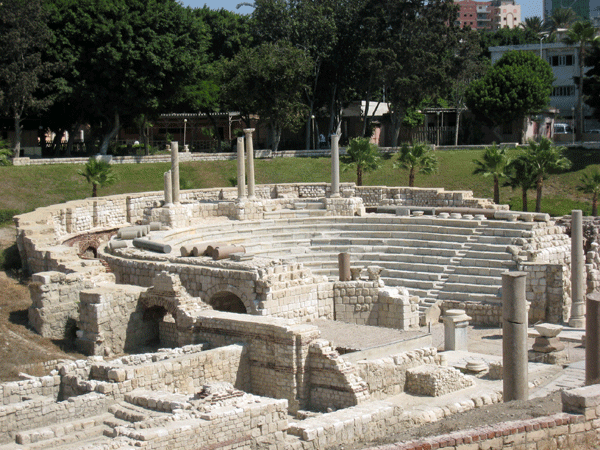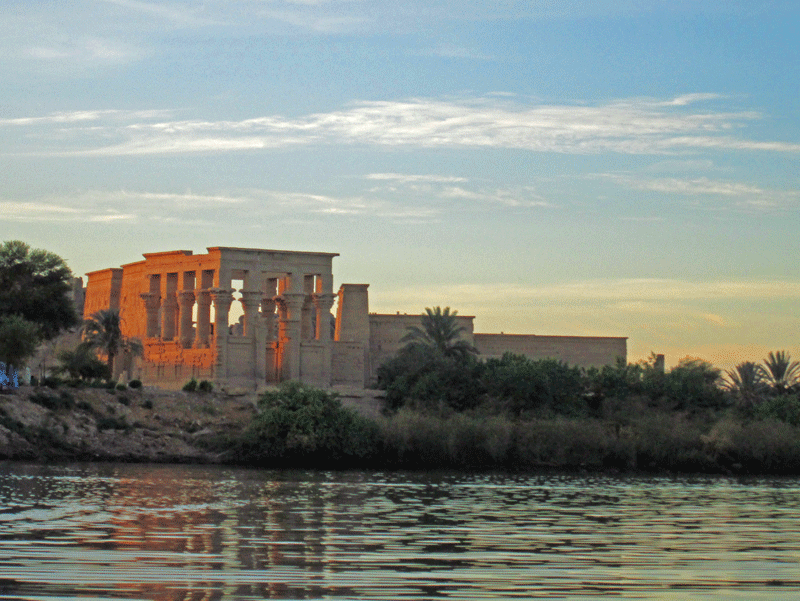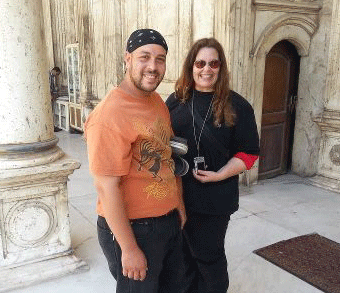 Please contact Patricia for any information regarding Khemitology, upcoming tours, and/or your independent travel needs in and around Cairo and Alexandria .
For Information on all of our unique upcoming Wisdom Journeys, please visit our

Travel Page